Description
Great Day TOTE CADDY Trash Can Transporter Model TC5000 Made in the USA New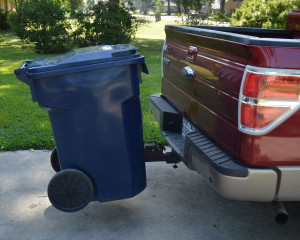 Great Day's new Tote Caddy Trash Can Transporter eliminates all the straining and hassle for handling this unpleasant chore—simply back your vehicle (any truck, auto, golf cart or ATV with a 2" hitch-receiver) up to the trash can, hook it up and go! The Tote Caddy was designed to match up to hitch receivers of average height. In some cases where the receiver is higher than 16″ or lower than 12″, use of Great Day's HL500 Hi-Lo Hitch Adapter is recommended.
The Tote Caddy fits into standard 2" hitch receivers and is cleverly designed to attach to the handle of the universal trash cans used by all waste disposal services. With the simple flip of a lever, the receiver arm of the Tote Caddy moves into place for attaching to the can. Once attached, it is positioned slightly off the ground and ready for delivery. The TC5000's weight capacity is 200 lbs.
Made with Pride in the USA!